Part 2 of a trilogy of albums dedicated to Ronnie Lane and the band Slim Chance.
RELEASED IN 2016.
Features the song 'CHAMELEON' with lyrics written by KATE LANE and music composed and performed by PETE TOWNSHEND, accompanied by THE FISHPOOL PHILHARMONIC.
Now Des is back with the second instalment of his Kuschty Rye Trilogy.
It's called 'The Bastard's Tin' and he's brought along a couple more of Ronnie Lane's compadres for the ride.
Pete Townshend wrote the music, plays guitar and sings a joint vocal with Des on the album's leading track, 'Chameleon'. Kate Lane (Ronnie's second wife and also his muse) had given Des her lyrics for the song after hearing 'The Good Gentleman's Tonic', 'Chameleon' is a devotional love letter from Kate to Ronnie. It was written following their separation, after he was diagnosed with the early symptoms of MS. An intimate insight into the life they spent together can be found on her commentary which introduces the songs in the second half of the album.
'The Bastard's Tin' charts the course of a single day. It starts at dawn with an excerpt of Ronnie and Kate singing 'Single Saddle' from the second Slim Chance LP. This leads into 'Chameleon' after which Horsfall proceeds through the rest of the morning part of the record performing 6 of his own compositions.
These songs reflect on life's realities in a number of ways: From the value of friendships on 'I Know A Little Bit, to disappointment on 'Richmond Green' and 'That's Not On'. Then the heartbreak of having to deal with a loved one's addictions on the tracks; 'Anyway' and 'Whisky On Your Breath'. The album reaches its mid-day point with the realisation that time is marching on with the touching and sensitive, 'Further Down The Line'. Afternoon is heralded by the singing of a skylark and the short instrumental, 'Katie's Jig'. Then Kate Lane takes up the story by introducing the next sequence of songs. Her anecdotes relate to a period of time, often referred to as Ronnie and Kate's "Gypsy Years". These events surrounded Ronnie's decision to leave his band, The Faces when their singer Rod Stewart, was starting his rise to fame and fortune.
The sequence commences with a Ronnified version of Townshend's song, 'Going Mobile' (from the classic Who album, 'Who's Next') which is followed by Horsfall's 'Whistle To Blow'. A couple of songs ('Stone' and 'Debris') follow from Ronnie Lane's time with The Faces. Kate's song, 'Tin & Tambourine' is next and the album's day ends with a rousing version of Ronnie's swansong for The Faces, 'Ooh La La'. In the evening, everyone gathers around the kitchen table to sing Ronnie and Kate's favourite Leadbelly tune, 'Goodnight Irene'.
Then up the Wooden Hill To Bedfordshire.
It's the end of a perfect day.
All contained in 'The Bastard's Tin'.
For further information please contact us by clicking here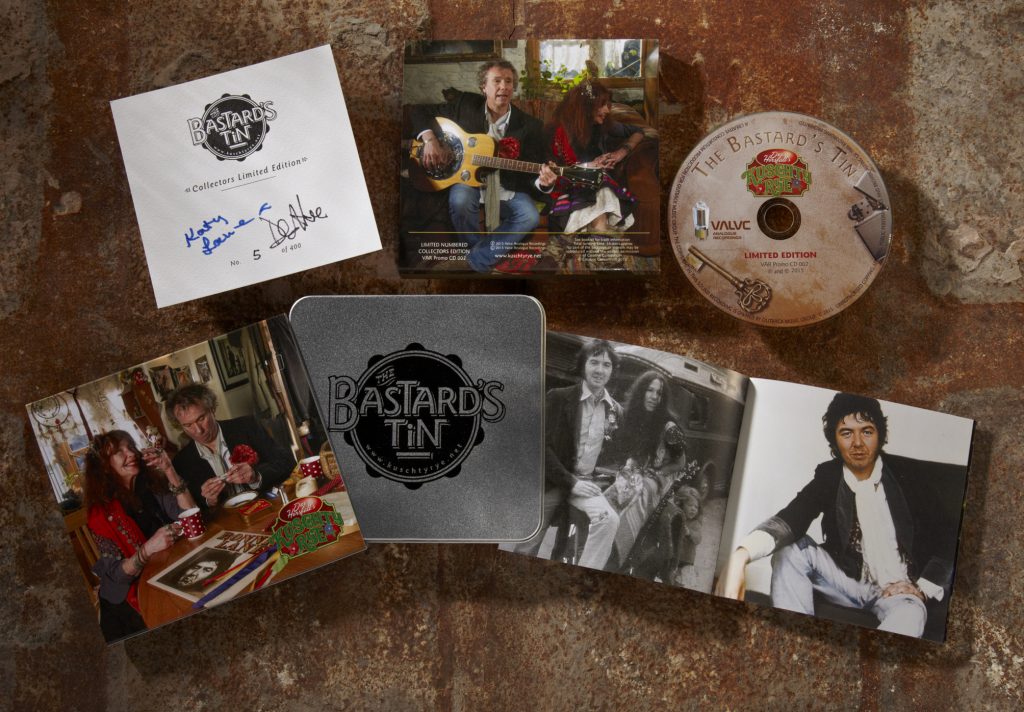 "Chameleon is a stunning folk track which sets the table for 'The Bastard's Tin' album in a big way."
Brews & Reviews
"Clearly something of a passion project for Des Horsfall, the collaboration with Townshend came about because the legendary Who guitarist heard about the album and wanted to be involved. The result is this delicate, beautiful single."
Less Ordinary Folk
"Chameleon' is a must for all true folk fans. Not only is it a poignant reminder of how beautiful the genre can be, it also marks a unique collaboration between two performers, a fantastic songwriter and a tribute to a music legend."
Unfashionable Male
"It's a stone cold stunner."
Real Music Network
"Here's a tasty recipe for you. Take a dash of folk from Des Horsfall's Kuschty Rye, add the vocals and songwriting of The Who legend Pete Townshend, and mix it with lyrics by Katy Lane, written in tribute to the late great Ronnie Lane.
The treat you end up with is the single Chameleon"
Skip To The Good Hit
"A superb album, very true to the memory of Ronnie Lane and guaranteed to bring a tear to the eye of anyone who knew him or his music"
Blues Matters Magazine
"It's compelling, insightful and poignant. The Bastard's Tin is not your average CD but it's definitely worth seeking out."
R2 Magazine
"A marvellous tribute to Ronnie Lane and Kate, his ex-wife and muse. The songs capture Ronnie's spirit, humour and mastery of a tune. A compulsory purchase for lovers of great British songwriting laced with character and warmth."
The Musician